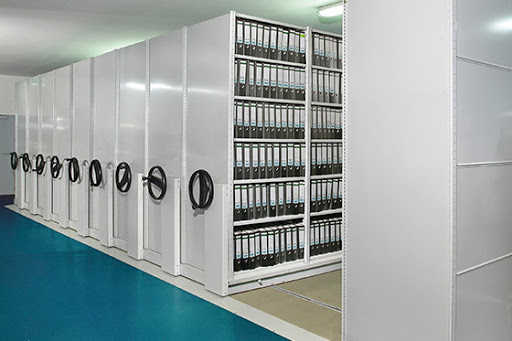 Mobile shelving is a versatile solution that condenses all your stored items into less space while improving ergonomics, accessibility and organization. mobile shelving  are ideal for environments where space is limited as they have the ability to release valuable space when needed. However, how does it do this? With a simple push of a button or turn of a handle,  the  mobile shelving compact together to save 50% floor space while offering you the same amount of storage as traditional mobile shelves.
What are the Advantages of Mobile Shelving?
The advantages of mobile shelving systems are numerous and go beyond the ones that have been listed below. However, to give you a better idea of how these systems can help you,
let us look at some of their many advantages mobile shelving:
Improves organization of materials, thereby enhancing employee morale and productivity.
Reduce your storage floor space used by 50% or double the amount you store in the same footprint as traditional shelves.
Eliminates the need for new construction as well as the down time and costs associated with such projects.
Relocation and modification features allow you to use the shelving according to your changing requirements.
Centralizes storage in one place, making it faster and easier for employees to find and retrieve the required items.
Helps to reduce theft by unauthorized personnel.
What are personal lockers:
A range of lockers to store all of your personal and clothing items.
The flexibility of adjustable shelves for personal items, full width hanging rail for clothes and jackets and compartments to store bike helmets, backpacks or kit bags these lockers are perfect for work of leisure.
Many Benefit of Personal Lockers:
Saves Space:
Many people quite skeptical about the fact that lockers can look bulky and take up room. On the contrary, they are in fact excellent for saving space and keeping areas clean.
Health and safety:
Having storage lockers in an office or school can make everything a bit safer. With less excess baggage on floors and on desks there are also less trip hazards around. This is particularly true in buildings where
there is a high volume of people or where space is restricted. Personal Lockers are great for storing spare clothes for those after work gym sessions or for keeping jackets stowed away during the day.
Space saving:
Whilst many people worry that lockers can look bulky and take up room, they are in fact excellent for saving space and keeping areas clutter free. Excess belongings and paperwork can be stowed away until they are needed, leaving more space on desks and surrounding spaces.
Storage lockers are uniform, so look much better than lots of untidy and non-matching shelves or Pigeon holes. Not only that, but you can now get them in a huge variety of sizes, a big improvement on the ancient bulky looking lockers.